Courtesy of Michael Manley, Racing.com – Patience a virtue for Jusufovic | RACING.COM
Enver Jusufovic knows the benefits of being patient with his team and he was rewarded in the opening event at Flemington on Friday when four-year-old gelding Theorum scored at his debut.
Jusufovic owns the galloper with Bruno Cugnetto and said that they had to be a little bit more patient than normal with getting Theorum to the races due to him not being able to locate the galloper's ID papers.
"He would have raced a little while ago if I could have located the ID card, so I had to give him a little break as the process with Racing Australia takes a while," Jusufovic said after Theorum scored in the 1000-metre maiden.
But Jusufovic said Theorum benefited from the extra time. "Trialling and maturing with him all the time and as a result he's mature and professional, which puts him in good stead down the straight," he said. "I'm very happy to win one of the few maidens run at Flemington."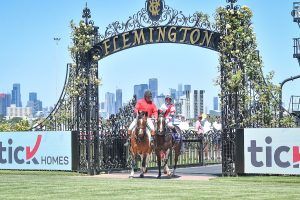 Jusufovic said Theorum was going to make his debut at Moe but he decided to dodge the Mick Price and Michael Kent Jnr-trained three-year-old filly Silkstar, who won that race by eight lengths. "Then we come here and we run into another of Mick's but we managed to beat it," he added.
He was referring to their galloper Graysong, who started at $1.85 but finished third.
The win gave part-owner Cugnetto his first winner with Jusufovic after 15 placings with him across two years owning horses with him.
Theorum was ridden by Alana Kelly and gave her a 47th winner as an apprentice in Melbourne.
Photo courtesy of Racing Photos.