Pinstriped had a solid education with three jump out wins to his name leading into his debut run. Jockey Mick Dee was fairly confident when he jumped aboard the son of Street Boss in the pouring rain at Moe last month. The rain affected ground was deteriorating rapidly early in the program with the track rated a Heavy 9 for the second race of the day.
They had their work cut out for them when he jumped well from a wide draw letting the speed unfold settling three wide without cover. Dee got going early on the tough gelding around the home bend covering ground but taking him to the best part of the track. It was an easy watch as he loomed into the race improving his margin on the rest of the field to win by 5.5 lengths.
"Excellent win. He's still quite immature, I think he's going to be a nice horse in 12 months time" Enver noted post race.
"It was a good win, I think if the track was still in the slow range to a good track he probably would have won with an even bigger margin" Dee mentioned, stating that "he's still learning but he's got a lot of ability there".
Purchased as a weanling for $80,000 from Sherah Sullivan at Nooralim Park, this talented gelding has been in the system a long time and this win was worth the wait. Pinstriped is the second foal out of the dam Snitzel Blitz who was a winner herself over six furlongs.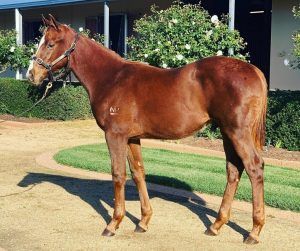 The chestnut three-year-old celebrated a birthday yesterday so was technically still a two-year-old when he broke his maiden. The ownership group knew they had a good thing and thought long and hard about a strong name for their future star. Pinstriped was suggested as the wearer of a pinstriped suit oozes confidence, power and independence setting the gelding up for a great career ahead.
Congratulations to the patient ownership group and to our staff at home on the win. Pinstriped has headed for a well deserved spell to continue to mature and soak in all he has learnt this preparation.
Click here to watch replay.
Click here to see our available horses.
By Emily Schulz