At Enver Jusufovic Racing we love to see our stable stars shining on the racetrack, but most of all we love to see them flourishing at their new homes when their time as a racehorse has come to an end. The rehoming of our thoroughbreds is very important to the team and we will be highlighting some of the past gallopers that have set hoof in our stable and are now onto their new careers.
This week we have a son of Jimmy Choux who raced under the name of Croquembouche. The bay gelding is a half brother to two-time New Zealand Horse of the Year Mufhasa and was purchased for $85,000 from the Inglis Sydney Easter Yearling Sale. He debuted as a three-year-old having only one start for the stable finishing third in a Ballarat maiden picking up $1,840 in prizemoney. He has had a few homes since leaving the stable and now lives with Kelly who has kindly shared their story so far.
How long have you had Croquembouche and what does he go by now?
I have had him now for a few months and he is affectionately known as Jimmy or Jim Jam.
What does his life look like now?
Pretty cruisy, just like him. He LOVES a good scratch and pamper with the brushes and will not go past a bit of hay! He certainly is a foodie through and through. We have been taking the time to build our bond and trust of one another by having weekly lessons with our local instructor as well as mixing it up with some trail rides out the bush. He has an amazing life filled full of fun, love and FOOD; his favourite, favourite thing in the world. Which by the sounds of it, not much has changed in that department and still has an appetite the size of a whale!
What has the retraining transformation been like?
Along with building up some muscle for our dressage and jumping, we are continuing on building our bond between us and getting to know each other's buttons which has been a great start to our relationship. In the few months Jim Jam has been here, he has settled in well, he has given me so much confidence and we have had a ball doing all sorts of things. We have gone out on the trails and started a bit of pole work and jumping, Working on our bending and strengthening those muscles involved with dressage as well as got to know each other on the ground. The whole journey so far has been nothing short of chilled and laid back, just like our boy. He has certainly loved the trail rides and jumping; I see a great future for us at adult riders club and trail riding with my kids on their ponies.
What discipline does he do now? Has he competed?
Unfortunately due to COVID we haven't had the opportunity to get out to any competitions but I think the time we take at home to build our bond stronger and stronger will give us a the best outcome for when we hit the dressage and jumping comps in the future.
Does he have any funny quirks?
Jimmy absolutely loves to have a roll and a good scratch after arena work. He loves to find anything he can to get that optimum scratching spot and will use any position possible to get there. Sometimes this can be quite hilarious when its in a tricky spot. He's just an overall goofball that I love to bits!
Best part about owning an ex-racehorse?
When I first went hunting for my forever horse, I must admit I was very hesitant to look at an OTT. Coming back into riding after having kids as well as having confidence issues from my previous horse, I had strict requirements for my future pal which I didn't think that I would find in an OTT. I'm not sure why I had that perception however, once meeting Jimmy for the first time and testing him out, my thoughts on OTT's changed for good. From the first moment I met Jimmy, he oozed trust. I had not fully trusted a horse in a very long time and so to then jump on and feel such a connection with all my worries and fears go away, it was absolutely incredible!
I remember bringing my best friend along for moral support and while I cantered around for the first time in god knows how long, tears streaming down my face from sheer happiness I yelled out to her and said, 'I'm cantering, I'm cantering and I don't want to stop, I forgot how good this feeling was!'. Safe to say once I finally got off with a smile ear to ear, I brought him home and the rest is history.
Jimmy has been the best horse that has come into my life. He is so loving, so forgiving, so willing and brings so much joy to everyone who meets him, not to mention me as well!
Thank you to Enver and your team for giving Jimmy such a great start to his riding career and for your support in finding him a forever home after racing. He truly is my heart horse.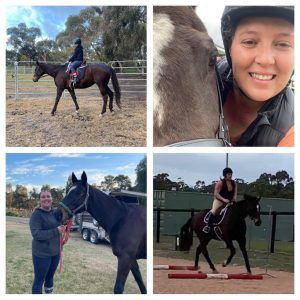 Thank you to Kelly Cass for sharing your story, we wish you and Jimmy all the best in your future together.